Neighbourhood Diaries: Stories From Where I Live (Story Planet)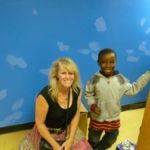 Over the last couple of years, I've written some TV scripts for a preschool program called Roll Play. A couple of months ago, the producer of this show approached me asking if I'd be interested in volunteering some of my time to work on a new project she was working on called Neighbourhood Diaries: Stories From Where I Live.
Basically, with the underlying belief that fostering creative literacy in children can not only give them a voice but also help shape them as people, this program sets up a number of workshops in at-risk neighbourhoods in the GTA, providing creative mentorship to kids.
This afternoon I'm off to my third (of 6) two hour workshops in the Jane & Finch area to work with 12 kids aged 6-13 to help them each make a book (story and pictures) reflective of their particular neighbourhood experience. This is the pilot of several programs to come, and besides myself, there are two other writers and an illustrator there to mentor/guide the kids. I think this is a very important project and you can find a bit of info about its genesis HERE.
Despite their living conditions, these kids are vital, energetic, happy, creative and very inspiring. The end goal is to set up a fixed place where this kind of mentoring can happen. Short term, there will be a display at Harbourfront in April 2010 of the creative products created by the kids in all the neighbourhoods.
I love working with kids, and I've had my eyes opened through my experiences there. On our first visit I was walking with a wonderful little boy as the kids were giving us a tour of their neighbourhood and taking pictures and movies. As we crossed one road he confided to me that he didn't like this street as this was where they always heard all the gun shots.