ON WRITING, WITH STEPHANIE MCLELLAN
Stephanie McLellan is an author whose latest book is Hoogie in the Middle (Pajama Press), a children's book that tells the story of Hoogie, who is part of a family of monsters and is the middle of three siblings. Released in May 2013, the story follows Hoogie's journey as she strives to get the attention she craves from her family and gradually learns that it's her uniqueness that makes her special and loved. Today, Stephanie tells us about how her own middle child was the inspiration for Hoogie, how being a mother makes her an effective children's writer and she gives a list of her many favourite children's books.
Open Book:
Tell us about your new book, Hoogie in the Middle.
Stephanie McLellan:
Hoogie is the middle of three little monsters who finds that being centre of her family doesn't mean being the centre of attention. Older sister, Pumpkin, is good at everything and always knows just what to do. Little brother, Tweezle, doesn't have to do anything except exist to be adored by all. When Hoogie mimics Tweezle, she's told she's too big, but when she tries to do the things that Pumpkin does, she's told she's too small. Too big, too small … sometimes Hoogie feels there's no room for her at all. It's only when Hoogie learns how squeaky wheels work, asserting herself in her own inimitable way, that she finally gets the attention she craves.
The middle child card is often dismissed as being overplayed, but sometimes you have to look at something from far enough away to see it. We took box loads of videos of our own three kids growing up and I remember watching one home movie where our eldest (Sarah) was six, our middle (Eryn) was three and our youngest (Tristan) an infant. In my memory, we all just played together as one happy group, but in this particular video, Sarah was busy with my husband, I was busy with baby Tristan and Eryn was all on her own. What I failed to see when living that particular moment was how much she needed someone to pay attention to her right then. Watching the video, I wanted to reach inside and give her a hug. Writing Hoogie in the Middle was the next best thing.
OB:
Hoogie in the Middle was written for your own middle child. What does Hoogie think about having this very special book published, and does it make being the middle child any easier?
SM:
Hoogie is our middle child Eryn's real nickname, so you're correct that this book is all about her. In fact, several of the incidents in the book are based on things that really happened in her childhood. We were staying in beautiful Temagami, Ontario for a dogsledding trip one winter and on waking in the morning, Sarah enchanted us with her retelling of a dream she'd had where she ran with the wolves through the original growth forest. As soon as she finished, while the audience was still assembled, four-year-old Eryn/Hoogie jumped in and told us that she'd had the exact same dream, except it was foxes. In the book we changed wolves to lions and foxes to bunnies, but otherwise the incident is true. Additionally, we have several photos of the real Hoogie in a bunny suit. She used to do this amazing bunny hop/run thing that her siblings could not replicate. While the real Hoogie has survived her middle child crisis very nicely, growing into a beautiful and confident young woman, I think she feels a bit vindicated for having her story told.
OB:
How does being a mother make you a better children's author?
SM:
We were always on the go with our kids, chasing down the weekends with adventure upon adventure, so there is much to mine in terms of incidents. While I don't remember very much about being a child myself, I absolutely love interacting with my own kids, seeing how their minds work and their take on things. All of that informs my writing.
We also read voraciously as a family. Our house is littered with children's books, and everywhere we went it was with a mega book bag in hand. Many bedtime curfews were sacrificed to our desire to read just one more book or to find out what happens next. So being a parent meant being exposed to wonderful children's literature, and that exposure has influenced me tremendously.
OB:
What drew you to begin writing books for a younger audience?
SM:
Some of our favourite times as a family were snuggling up with a great picture book, so I guess there's that. Truthfully, however, while I don't get as much time to write as I'd like given that I have a full-time job outside of writing, I'm building an inventory of books across many children's age groups.
OB:
What children's books are favourites in your home?
SM:
Our list of favourites is massive; far too many to list. Maurice Sendak's Where the Wild Things Are was an important family book. In fact, Sarah, our eldest, has two homemade Max suits. I had the wonderful opportunity to interview Mr. Sendak for Today's Parent magazine in January 2012, months before he passed away. We read lots of Jenny Nimmo, Martin Waddell, Sam McBratney, Ruth Krauss, Margie Palatini, Kenneth Oppel, JK Rowling, Phyllis Root, Natalie Babbitt, Tim Wynne-Jones, Hazel Hutchins, Ruth Ohi, Sharon Jennings, Jez Alborough, Tony Ross, Jane Yolen, Mem Fox, John Scieszka. This is the tip of the iceberg; barely scratches the surface. Two Young Adult writers who amaze me are Markus Zusak and Patrick Ness. I love middle grade and YA. I could give you a very lengthy list of favourites there too.
OB:
What books are on your bedside table?
SM:
I just finished reading Life of Pi. While before kids I immersed myself in Atwood, Laurence, Munro, Hemingway, Dostoevsky, Tolstoy, Wouk, Hardy and so many more, now I mostly read children's books of all ages. I wanted to read Pibefore I saw the movie though.
OB:
What are you working on now?
SM:
Dean Griffiths' illustrations for Hoogie are so wonderful. He's created such depth and character in not only Hoogie, but also her siblings, Pumpkin and Tweezle. How could these characters be confined to this one story? I find them chasing around in my head and wonder if there might not be other stories to be told.
Submitted by megan on May 15, 2013 – 8:46am
---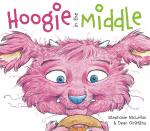 Stephanie McLellan's first picture book, The Chicken Cat, won the Ruth and Sylvia Schwartz Children's Book Award and the Mr. Christie Book Award, and was nominated for the Blue Spruce Award. Her second book, Leon's Song, was a finalist for both the Blue Spruce Award and the Chocolate Lily Award. Stephanie wrote Hoogie in the Middle for her own middle child, who is nicknamed "Hoogie." Stephanie lives in Newmarket, Ontario.
For more information about Hoogie in the Middle please visit the Pajama Press website.
Buy this book at your local independent bookstore or online at Chapters/Indigo or Amazon.